Product Description
M-2 Steel Ejector Pins are Hardened-Through to 60 RC.
The advantages of M-2 Steel include reduced friction and increase thermal stability.
Less corrosive than other pins. The combination of premium metals provides a higher resistance to corrosion.
M-2 Steel is suited to a variety of surface treatments, including gas or titanium nitrite.
M-2 Steel also maintains profiles and edges longer, it is an excellent choice for core pins as well.
Part numbers are marked on every pin for easy identification.
Precision .0003 tolerance.
Product Catalog Page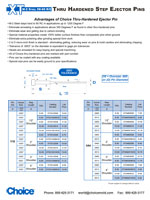 View Full Product Line »